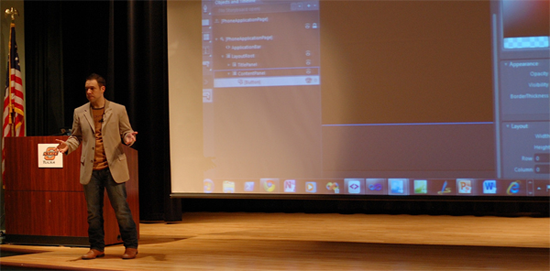 Hello. My name is Caleb Jenkins. I speak at conferences, manage the User Experience (UX) team at GetThere, a Sabre company, and co-chair Sabre's Employee Innovation Council (#BringIt). Before working with GetThere, I worked as an Agile Coach for at Sabre Airline Solutions.
I also founded and was the Principal Mentor at Proaction Mentor(s), before that I was the Senior Software Architect at Six Flags Corporation and a Principal with Improving Enterprises. You may also know me from my work with the Microsoft Corporation as a Developer Evangelist and technology expert, or as a national speaker for the International .NET Association (INETA). I've also been a Microsoft MVP for ASP.NET for the last 6 years, am a  Certified Scrum Master. I've worked as a technical editor and author for Wrox Press, and I was recently a featured presenter on xTrain and Adobe.TV.  I'm also the host, cameraman and editor for CommunityCast TV.
I live in the Dallas area where I continue to date my beautiful wife and busy myself playing Candy Land and Xbox 360 with our four incredible children. Occasionally I write curriculum, speak at conferences, and write code for silly things like Twitter applications. Eventually I'll post some of the gazillion interviews that I've recorded on CommunityCast or blog some more here.
Why Developing UX?
The name for this blog comes from the combination of several ideas. First, that creating (or developing) greater User Experiences (UX) is a process and necessary for better applications. Second, UX is more than UI, more than what you can see. A better user experience involves the entire application. Security, performance, availability – these are all parts of an application that aren't normally thought of as the UX, but they are and they do. So Developing UX will hopefully be about the merging of great software development with incredible UX.
See my complete resume here. (PDF format)