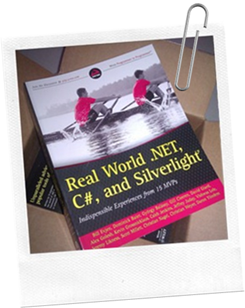 So.. this arrived in the mail today. It's not really "my" book, since there were 15 authors, and I was just one of them. Still, this is the first time that I've worked on a book as an author, and it was a great experience! Different than being a technical editor, it was fun picking my own analogies and focus to talk about automated unit tests (chapter 15).
I'm going to blog more about the process, how it compared to other work that I've done and what I'd like to do the future. For instance, I think I'd like to write a chapter (or more) for each of the 10 Practices that I frequently talk about.
Special thanks for the team at Wrox, the editors, and all of the guys must have felt like they were herding cats to get all of our content together. I'm really enjoying reading this book cover to cover. It's neat to see so many, truly real world, ideas and approaches in one place.
Check our the world class MVP's and RD's that were involved in making this book:  Bill Evjen, Dominick Baier, Gyorgy Balassy, Gill Cleeren, David Giard, Alex Golesh, Kevin Grossnicklaus, Jefferey Juday, Vishwas Lele, Jeremy Likeness, Scott Millett, Christian Nagel, Christian Weyer and Daron Yondem.
and if you look closely.. you can even see my name.


I'm honored to be included in a book with such great people!
If you get the chance to read my chapter (15) I'd love to get your feedback! Writing for a book is much harder than preparing a conference talk, writing training curriculum, blogging or any of the other related things that I've done. I know that some freaks of nature incredible talented people seem to crank out high quality books in their sleep, but it's a skill that I'm still developing. I'd definitely like to get better and your feedback is always welcome!
Buy it now on Amazon (available in print and kindle) – and leave a comment!