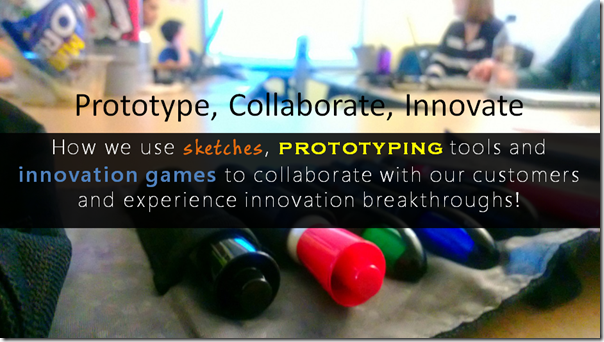 Slides:  http://www.slideshare.net/calebjenkins/prototype-collaborate-innovate
This is one of my favorite talks.
I first gave it at the Big Design Conference last year, and then at the Tulsa Tech Fest this year. Come learn about how we used Innovation Games, Sketching and Prototyping to collaborate with our customers to create awesome products when I was the UX product design manager at GetThere.
I'll be touching on techniques from the Protyping Book, Innovation Games and using Microsoft PowerPoint and Indigo Studio from Infragistics to rapidly prototype ideas.
I'm excited to give this talk again – I presented at the last two Dallas TechFest events.
I was excited to see this conference come back!
more excited to be invited to present (awesome)
and even more excited that Jared Spool will be delivering the opening key note (even more awesomer!!).
You could say I'm pretty excited.
Apparently I'm not the only one.
According to the Dallas TechFest twitter account – they completely sold out this week!
If you haven't picked up Todd Zaki Warfel's Prototyping book – go get it! Between his book and the Innovation Games book you'll get the meat that I had to leave out of my short talk.
I hope to see you there tomorrow, find me and say "hi"  – let's talk about all things Agile, UX, .NET and have a great time.
Enjoy!