Last Wednesday I had the privilege of presenting "Scaling Scrum to the Enterprise" at the North Dallas .NET Users Group.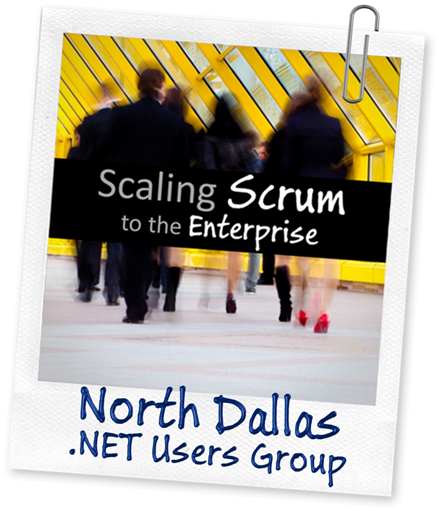 This is one of my favorite talks lately, for anyone doing Scrum, especially in heavily matrixed organizations where you have enterprise level people working across multiple teams and don't seem to fill well in the 3 roles defined by "out of the box" Scrum.. then this talk for you. Here is the description:
Scrum is the most popular Agile framework in the world for effective team collaboration on complex projects. Scrum provides a small set of rules that create just enough structure for teams to be able to focus their innovation. Scrum is optimized for teams for teams of 5 to 9 people. Making Scrum work with larger teams or in large enterprise environments brings its own set of challenges. This talk presents 3 patterns used on enterprise teams to scale Scrum effectively with global teams.

If you were able to attend, I would sure love to hear your feedback. Thanks!