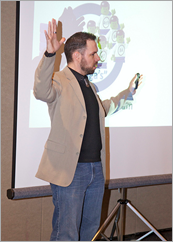 For anyone in the Houston area this Friday, I will be speaking at the Agile DOTNET Conference hosted by Improving Enterprises and Microsoft. I'm really excited for this year's conference – it seems that my friends at Improving like to take it up a notch each year. Last year the Houston event was at the Microsoft office.. this year, it's at a Major League Baseball Park with an after party watching the Astros play the Dodgers! Awesome.
I'll be pulling from my experiences working with global agile teams to talk about 3 patterns we've used to scale scrum. This talk is a lot of fun, and I hope everyone has something that they can take away from it!
If you're planning on attending.. be sure to swing by and say hi,
Hope to see you there!
Image Credit – Chris Weldon