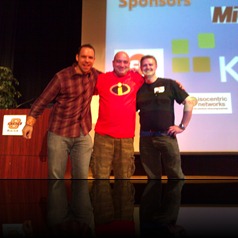 Last week I was discussing with a couple of my partners in crime about our ideas for building communities within our organization. I mentioned the 3 fundamentals that I developed in Tulsa, and was told that I had 1 week to blog these or they would. 🙂 So, here you go…
It seems like a life time ago that I ran the Tulsa .NET Users Group. It was a great experience that opened a ton of doors and opportunities. Through the process of building a user group, working with INETA (in various committee capacities and as a National Speaker) I've come to appreciate what I call the 3 core fundamental or  "Nuts & Bolts" of building community. These are sort of the core things to do.. without necessarily going in to the nuisances of what drives community, formation, goals, leaderships, sponsorships, vision & purpose. This certainly isn't everything, but these are what I consider the bare minimum recommendations that I make to anyone that is struggling to get community off the ground.
Meet regularly (same time same place)
Supplement off line communities with on-line integrations, and vise versa.
Help attendees take ownership
Always meet when you're supposed to meet. I've heard (and seen)  too many organizers that will cancel a meeting way to often for various reasons (like no speaker this month)… so take that time to do a round table, have someone show something from what they're doing at work and how they are learning, make it a Q&A month.. the topic is not nearly as important as the consistency.
Bridge your events. I most often build off line communities. That is, we meet in person, as apposed to communities that are primarily on-line. How do you bridge those monthly or weekly in person interactions? I find that a message board, email list or some other tools to allow the participants in your community to connect between the events. That also becomes a critical resource when you need to keep everyone informed or make planning changes. We've used DotNetNuke with it's forums, you could also consider creating a Facebook page or Google Group.
The reverse is also true, let's say that you are primarily an online community. Consider semi-annual meet ups and annual conferences to help strengthen those relationships and bring the community together.
Grow participation not membership. Members sign up, participants give. They give their time, they give their energy.. there is something magical that happens when attendees stop thinking of your group as something that they go to .. and their mind shift changes to this is my group. In other words.. it no longer matters if you are their or not, the group has grown beyond the leader and is now something that is owned by the community!
This is certainly not a complete list… what else would you add to it?
Happy Building!