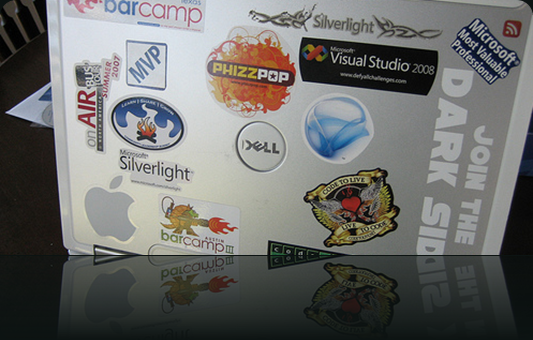 I'm frequently asked about new computers from our friends and family, and I've blogged about buying a new computer in the past, but this post is about the common things that you should download and install once you have that new computer, right after you do all of the Windows Updates and un-install all of the "trial" software that came with your computer. As with anything, you can take this advice or leave it, I'm really curious to know what sort of things you think I need to add to this this. Feel free to add anything that I've missed in the comments!

Microsoft Security Essentials. I won't go through the discussion about whether or not Mac get viruses, they do; I will however say that you should have anti-virus software installed on your computer. This one is free, built by Microsoft, and works really well. This is the first thing I install on a new computer. (note: You'll probably need to uninstall whatever "free 90 day trial" antivirus that your new computer came with probably Norton or McAfee)

Live Mesh.  [Update: Live Mesh is no longer in beta, it is now included with Windows Live Essentials! ] Mesh is awesome. Install it on every computer that you use. Mesh does three things for you.
It Synchronizes files between computers. just pick the folders that you want to have participate in the synchronization, right click and select "add to mesh"
Mesh Synchronizes files to cloud. That is, on of the "computers" that you can synchronize your files to is the mesh.com website. Just log in, select connect to Live Desktop and there you go, your files – available from any computer with an Internet connection.
Mesh let's you "remote desktop" to any computer that is running mesh. What's that, forgot to add that file to your mesh folder and now you're away and need to access it? No problem, remote in to your home computer, add the file to the folder, it's now available on your laptop. Awesome.

Another "essential" on the list of installs is ironically, Windows Live Essentials. With Live essentials you get:
Live Messenger – you can chat with family, even do video chat and remote assistance with friends and family
Movie Maker – fyi..this is what I've used for every CommunityCast TV video – it had *some* short comings, but for the most part – will do whatever you need, easily, for making videos
Mail – I've honestly never used this for email. I've always just used gMail or Outlook. But if I didn't have Outlook installed – I'd definitely give this a go!
Photo Gallery – this actually does a real nice job organizing your photos, and helps when you need to scan images for expense reports!
OK, that's it for the critical stuff, obviously as a developer, I also install a host of tools that I use on a daily basis, and that will probably make a nice future post (in the mean time, go check out Scott's ultimate developer tools list)… but here are  some of the optional installs for everyone!
Virtual CloneDrive Why this functionality isn't just baked in to Windows – I will never know. This is just perfect. You have an ISO that you want to use? No problem, just double click it and it will be as if you just stuck the CD/DVD in to your drive. Awesome.
Image Editing – GIMP (requires Java), Paint.NET (Requires .NET)
IE Spell – Spell Check is built in to every browser *except* Internet Explorer
OK, I think that's the important stuff. Feel free to add your top items in the comments!