Today there were two big announcements from Microsoft regarding their involvement with the Open Source communities. First, was the formation of the CodePlex foundation, an open source foundation for the
Enabling the exchange of code and understanding among software companies and open source communities
Awesome. Great. Fantastic. This is the natural progression of a lot of the open source work that's been happening at CodePlex, in the ASP.NET MVC stack and a lot of the other OSS projects that Microsoft has been initiating and contributing to lately.
The other announcement was more disappointing, Bill Hilf, the general manager of Windows, announced that Sam Ramji would be leaving his post at Microsoft to be the interim president of the CodePlex Foundation (cool – but why interim?) and then he would be pursuing some other opportunity.
Sam's primary focus is to drive Microsoft's Linux and Open Source Strategy, working together with Microsoft technology development teams and open source communities to build interoperable solutions
Horrible. Tragic. What a loss. At least, that's what I thought at first. The truth is that Sam is leaving a much different Microsoft than the one he joined three years ago. A better, more open Microsoft. I agree with Bill's assessment,
Microsoft's open source strategy is no longer just locked in a single 'lab' on campus – now OSS is an important part of many product groups and strategies across the company
Sam's role seems to be that of an OSS advocate, working to build OSS awareness and acceptance from group to group within Microsoft. Well done. Mission *mostly* accomplished.
So where does that leave us? I believe that at certain times in history a company like Microsoft will be faced with opportunities. Opportunities to move boldly forward or slink back in to the status quo, and (to quote that great philosopher and social commentator Dr. Horrible) the status, is not quo. I believe that now is the time for Microsoft to up the ante.
Rather than replace Sam, with yet another "Senior Director" – how many of those are at Microsoft? – I believe it's Microsoft's time to embrace an OSS strategy that moves beyond the director level. They need to show the world a bold move, similar to what BMC did over 2 years ago. Microsoft needs an Open Source advocate with teeth.
Three reasons Microsoft needs an Open Source Officer
The Timing is Right – The Momentum is there.
Change is in the air. Sam is moving on. The Codeplex foundation has launched, there's a new Chief Architect in town, and Microsoft has embraced many aspects of OSS is so many areas of their business because they have realized that – when it makes sense and in the right environment, OSS is good for business and good for your customers.
It's a different world out there.
Not only has the world inside of Microsoft changed, so has the competition. Microsoft is increasingly competing in an open web world, with open standards against open platforms. More and more, these competitors also become their partners and customers.
Go big or go home.
I believe that it is the spirit of Microsoft to take on new challenges, to put there money where there mouth is, and to embrace a big future with a strong vision.
Who should they hire? Well, I'm sure there are a lot of qualified people in this space, and I'm not going to mention anyone specific by name here… but if you follow my twitter feed then you might have seen something that I posted earlier today.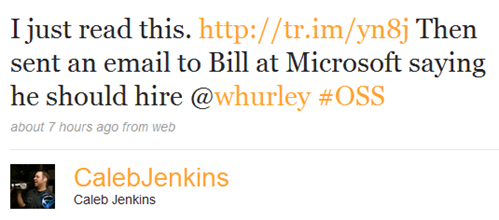 … and hey Microsoft, if you're listening, I wasn't the only one that thought that…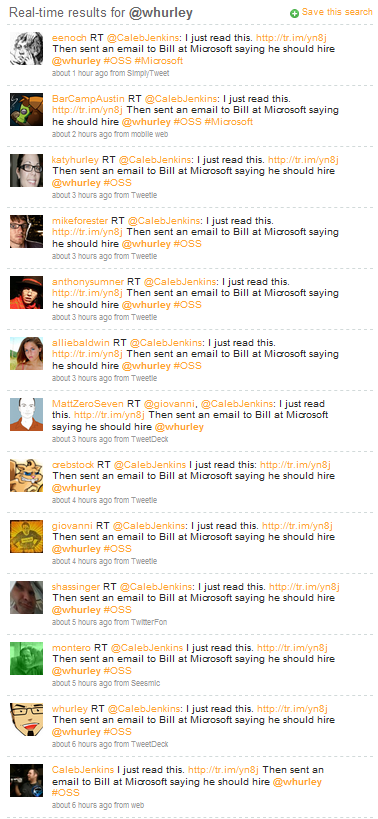 … I'm just sayin.