In June I'll be the local Silverlight expert, leading a technology track on Rich Internet Applications (RIA) at a Microsoft's BizSpark event, SparkStart.
From the official announcement:
SparkStart is a full day of business and technology discussion (open format) and learning event for startups ("startup bootcamp"). This event will also be a networking opportunity for those startups who are new to the BizSpark program and not yet enrolled in the program and would like to mingle and learn from key business and technology influencers. It will also be an event for those startups who are recently enrolled and need to keep the momentum going by learning key strategies for success, both in business, and in technology.
I'm looking forward to checking out Microsoft's new Technology Center in Las Colinas, TX – It's an amazing building!

It's going to be an incredible event for startups and entrepreneurs to learn, network and get to know some of the incredible technologies that are now available. I'm especially looking forward to hanging out with some of the other people that will be presenting at the event. (too name a few)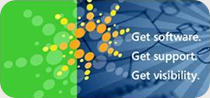 Check out SparkStart on twitter and read some of Christian's other related posts. Be sure to register. It's going to be an amazing day!