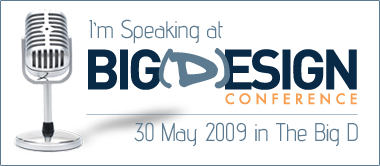 I'll be speaking at the Big Design Conference in Dallas. From the website:
The Big Design Conference is an intense day of learning within the scope of Strategy, Social Media, User Experience, and Code Development. Experts from across the country will gather to present theories, research, experiences, and best practices to students, professionals, and executives looking to stay on the bleeding edge.
My 1pm topic is "Bring Back the Sexy: What's New in Silverlight 3 and Why Everyone Should Care". Basically I'm going to be walking through some of the awesome goodness that's been added to Silverlight 3 like 3D Support, hardware acceleration, custom shaders and behaviors, offline/out of browser integration, Blend 3, plus the new line of business features like data forms and WCF integrations. You know, all the awesome Silverlight sexy that I can get in to my allotted hour. it's gonna be awesome.
Be sure to register today (tickets are selling fast!) – See you there!
Big (D)esign Conference
Big (D)esign After Party
(Free) Style & Travelocity Design Challenge