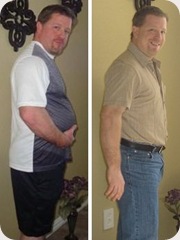 I finally had time to announce the winners for the Fit In Feb Developer Challenge. Check out Peter's before and after picture. Awesome!
Go see the rest of the winners over at my "Get Less of Me" health blog.
I'm looking forward to doing another event like this at some point in the future. I'll just need to find better ways to automate more of the process and do daily leader boards and that sort of thing.
What sort of "Healthy Developer" contest would you like to see?