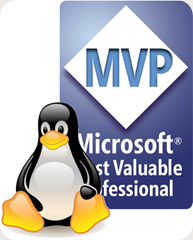 Several exciting things happened today. First, I was re-rewarded with an ASP.NET MVP (thank you, thank you… I'd like to thank that academy… oh wait), Microsoft announced the *much anticipated* Silverlight MVP expertise, and finally, to everyone's surprise, the new Linux MVP award.
"The Microsoft MVP Award Program recognizes and thanks outstanding members of technical communities for their community participation and willingness to help others. The MVP Award is given to exceptional technical community leaders who foster the free and objective exchange of knowledge by actively sharing their real-world expertise with technology users." – Says Rich Kaplan, Microsoft Vice President
I'm especially encouraged by the first three Linux MVP's that were named… Joseph Hill (Mono product manager and seriously smart C# guy), Miguel de Lcaza (creator of the Mono Project) and whurley, Chief Architect of Open Source Strategy for BMC, BarCamp organizer, evil genius and blogger
.)
"I'm excited to see Microsoft finally embrace the broader technical community and recognize the contributions that Linux developers on the Mono project continue to make to the Microsoft platforms." – Says Joseph Hill, Mono Product Manger and new MVP recipient
I'm pretty sure that the "partnership" between Microsoft's Silverlight team and the Mono team's Moonlight project are starting to pay off.
"To think that Microsoft has finally recognized my life long effort to open source their various operating systems and software products is astounding," said BMC Chief Architect of Open Source Strategy whurley "clearly Microsoft is finally on the path to embracing open source in a meaningful way that will benefit both the company, and the community at large."
Of course, I'm still wondering if there will ever be room in this "new" open world for a Linus Torvalds MVP?
Update: already 44 hits on Digg!