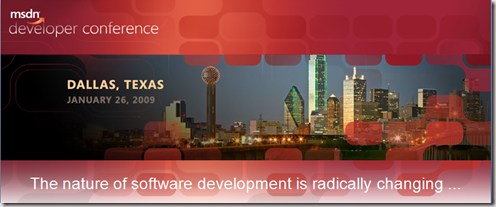 Microsoft has put on several of these events all over the US. If you missed the Microsoft PDC Conference then the Dallas event on Monday is the best local place to get a lot of the same information on what's new with .NET and the future roadmap of the Microsoft Platform. (Rich UX, RIA's, Cloud Computing , Visual Studio 2010, etc…)
From the official site:
Missed the PDC? Catch the content LIVE at the MSDN Developer Conference. Register Today!

We're bringing the PDC to you!
I'll be there speaking about Developing Data-Centric Applications Using the WPF DataGrid and the new WPF Ribbon Controls with Visual Studio 2010. (I know… that's a mouthful!) 
I'm looking forward to it and hope to see you there!